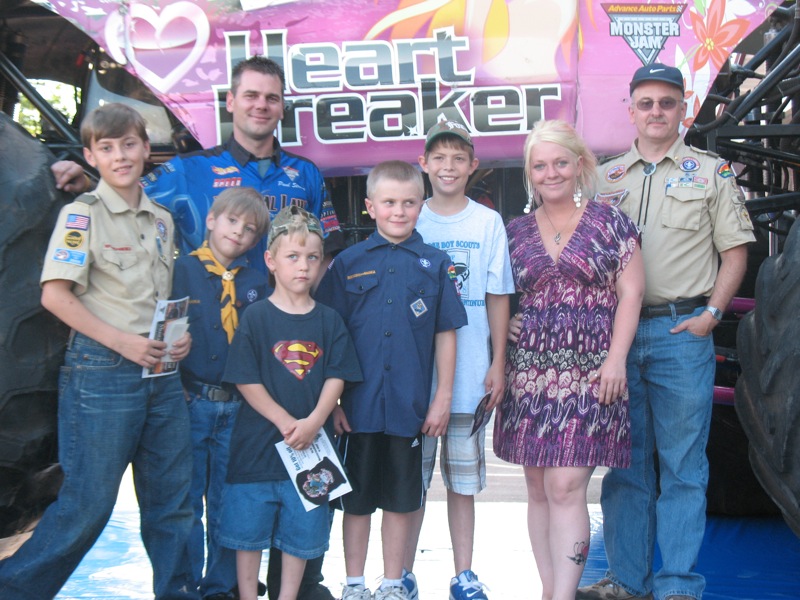 Men like their trucks. Young boys like playing with their small trucks. Both like monster trucks. When Cub Scouts are invited to tour the shop of a monster truck you can bet they and their fathers are going to attend.
Paul Strong, owner and driver of the monster truck, Martial Law, and Kaila Savage, driver of Heart Breaker, recently invited two Cub Scout packs and our Boy Scout troop to take a tour of their shop in Albany, Minnesota. Paul showed off some the parts commonly replaced in trucks while explaining how much time is spent working on them to get them ready for the shows. The boys enjoyed the tour and had plenty of questions for Paul.
After the tour, the Scouts had the chance to crawl inside Heart Breaker to have their picture taken. They also had their photograph taken with Paul and Kaila in front of the truck. The drivers autographed photos of the truck for the boys. The tour ended with Paul and Kaila providing sodas for their guests. Paul even started up the engine of Heart Breaker for the boys to hear. There were a lot of small hands covering ears while the engine roared.
Pictures of the event can be seen on the troops website at http://melrosetroop68.org/yearlygalleries/yh11.html#Monster_Truck .
A video or two is being planned to post for the Melrose Scout Productions podcast.