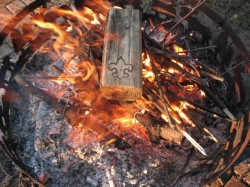 This year's weekend camping trip to Kings Lake near Freeport, Minnesota, was not a typical troop outing. We arrived Friday night, as usual, and set up camp. We left Sunday morning, as usual. Saturday was anything but the usual.
Only three members of the troop attended this outing, and one did not arrive until after breakfast Saturday morning. We began the program with some map and compass work for the Second Class Rank. When it came time for the hike we decided to walk into Freeport, have an old style ice cream malt at Charlie's Cafe, and walk back to camp in time for lunch.
We jumped into the car after lunch and went to Albany to play disc golf at North Lake Park. We played nine holes before going back to camp to clean up a bit. It was time to go to the graduation party of our oldest Boy Scout, Dakota. He invited us to stop by for supper. We, of course, could not turn down that opportunity.
Back at camp, the evening began with a leisurely pontoon boat ride around Kings Lake. The Scouts branded the Boy Scout logo onto an old canoe paddle, several times, which was then cut up into smaller pieces to take home as souvenirs. It ended with everyone sitting around the campfire. The boys must have been tired because they went to bed before the sun set in the western sky. It may not have been a typical weekend but the boys had fun and enjoyed the program. Isn't that what really matters?