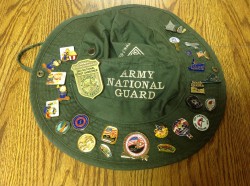 I have noticed that when Scouts and adult leaders have written about what they collected at this year's National Jamboree it always seems to be about the patches. I will admit that patches are cool, and that I collect them myself, but there are plenty of other things to collect at the B.S.A.'s big event. One of those things is pins.
When I attended the 2001 National Jamboree at Fort A.P. Hill in Virginia, I was ready to collect patches. I was not prepared to collect pins. I do not know if many council troops brought pins along to trade this year but our troop in 2001 did have a pin to trade. Unfortunately, our pins were pretty tiny. I had several of them though and I was determined to get rid of them for other pins, or something else that might catch my eyes. Like more patches!
As you may notice from my collection, I did not do very well with the pin collection. I did collect various other pins though, including the collection of Garfield the Cub Scout pins and a few of the official 2001 Jamboree pins. Yep, I guess you could say I was not into collecting the pins very much. I think I still have two or three of my council's pins. Why are the the pins on a National Guard hat? Because the Guard was giving the hats away for free and it made for a great item to keep all the pins collected in one spot.
Did you collect pins at this year's Jamboree? How many did you come home with? Which ones are the ones you prize the most? Do you have pictures of them posted online somewhere? Let us know.