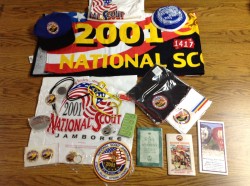 The 2013 National Jamboree is officially over. The new Summit high adventure base has completed its first real test at handling large groups of Boy Scouts, leaders, and staff. It will be interesting during the next several weeks to see what the reports will read.  Were there problems? How will things change for the next Jamboree? What will remain the same. What will change? And the most important question, did the Scouts have a great time? I would be willing to bet that Bryan at http://blog.scoutingmagazine.org will keep us informed.
I have been reading things online written by both leaders and Scouts who have attended this year's big event. One thing that impressed me is that many of the council patches have really been outstanding. I wish I would have attended just to collect patches. Granted, I did collect a fair amount when I attended the 2001 National Jamboree, but I think I would have had to bring five times as many patches to trade if I would have attended this year.
Every Jamboree has plenty of stuff to collect, not just patches. There are shirts, pants, towels, neckerchiefs, books, pamphlets, pins, rings, papers, and lots of other miscellaneous stuff. And I would guess there is more to collect now then there was 12 years ago. The picture above shows some of the "official" things I accumulated during the 2001 Jamboree, including a towel, cap, and tee shirt. I even kept a couple shopping bags for good measure.
During the next few articles I thought I would share a few other things I saved from the jamboree, including some special items that are irreplaceable. Stay tuned. Or should I say, plugged in?