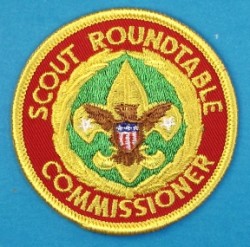 Shortly after becoming a 21 year old scoutmaster in 1981 I began attending the monthly district roundtable meetings, and learned quite a bit about how to be a good adult Scout leader. It did not take long for the commissioner to recognize my enthusiasm about Scouting. A few years later I was a member of the roundtable staff. We had a lot of fun and hopefully helped a lot of troop leaders become better at their positions. I even earned my commissioner's award. It finally came to an end after several years as we all moved on and others took over, but I still attended roundtables as a scoutmaster through the next two decades.
I have been trying to figure out what to do with myself after stepping down as the troop's scoutmaster a year and a half ago. I still help out with the troop as a committee member (the troop treasurer.) I have helped on a few activities and the occasional troop meeting. I think I may have been helping a little too much because a couple months ago I was told by one of the current troop leaders to back off. That caught me by surprise but it did get me thinking. I do want to stay involved in Scouting, but where does a retired scoutmaster fit into the program?
A couple people suggested I become active on the district or council level. I really have no interest in serving on a committee or some such role. I do not have the slightest interest in being involved with fundraising. I have never been very active in the Order of the Arrow. I am not sure I would like being a unit commissioner.
Which brings me back to roundtables. I was once a roundtable staff member. I think I might be able to bring a little something to help with those monthly meetings once again. There are a few things I would like to try to add a little fun and spice. So, I sent the commissioner an email asking if he would like some help this upcoming year. It did not take him long to respond.
Tonight I had a two hour meeting with Al. I threw a bunch of ideas at him and told him what I would be interesting in doing, and what I was not interested in doing, if I joined the staff. To tell the truth, now that I look back at the meeting, I wonder if I may have been a little too enthusiastic. He liked a lot of the ideas I brought up. Before you knew it, the two of us started creating a yearly plan for the 2013-2014 roundtable year. We now have our monthly themes, and even the September and October agendas plotted out. We plan to meet with our district executive within the next few weeks to get things finalized.
So I guess I am once again on the district roundtable staff after a two decade hiatus. Who knew that I would one day be back in that saddle?