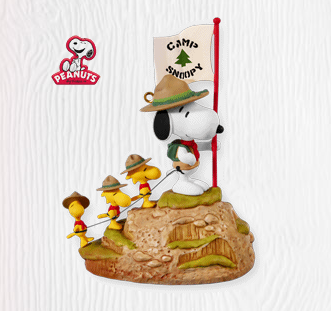 It is time once again to make that trip to your nearest Hallmark store and pick up this year's Scoutmaster Snoopy Keepsake Ornament. This year's ornament, The Fearless Crew,  features Snoopy leading Woodstock and two of his friends on a wilderness hike. As they reach the hilltop the old Beagle Scout plants a Camp Snoopy flag into the ground. It is another great addition the Scoutmaster Snoopy series of ornaments.
I have already picked up two of these ornaments, one to hang on the tree and one to keep as a Keepsake. It will be a nice addition to the three other Keepsakes from previous years that I have including Snoopy and his friends canoeing, roasting marshmallows around the campfire, and  reading a spooky story before going to bed. (Do a search for "Snoopy" to see the articles of previous ornaments.)
The ornaments are listed at $14.95 each. It can be seen on the Hallmark online store but I believe they can only be bought at your local store.
So, do you have any of the Scoutmaster Snoopy ornaments? How many do you own? Which ones do you hang on your Christmas tree? Will you get one for your scoutmaster?