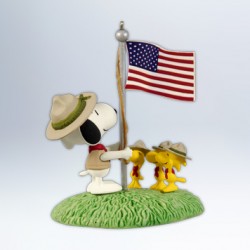 It is that time of year again. Hallmark is now selling the new Snoopy, the Beagle Scout, 2012 ornament. It is available only at Hallmark stores and is not available for purchase online, although their site does have a page for it at http://www.hallmark.com/Product/ProductDetails/1795QXI2941_DK .
This year's collectable features Beagle Scout (or is it scoutmaster?) Snoopy with Woodstock and a couple friends as they raise the flag of the United States of America one morning on a camping trip. As the Hallmark page states: "Recall wholesome camp mornings with a trio of scouts ready to salute the start of their day. Snoopy's got the flag on hand, so it's time to get going on your own winter adventure together."
I guess I will be making a trip to St. Cloud to purchase a few of these. A couple will be added to my collection (one for the Christmas tree and one to put away) and a couple may find themselves under someone's tree Christmas morning.
How many do you plan to purchase? How many previous ones do you already own?