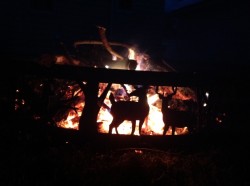 As a scoutmaster I constantly preached about having a campfire "cold out" before going to bed or leaving a campsite. The Boy Scouts probably got tired of me being on their case when I discovered a fire ring of which I was told was cold, but my hand said otherwise. Too bad. I was the scoutmaster, and it was my job to train these young men how to camp safely and responsibly. Get the water bucket and get that fire COLD OUT!
A couple of my neighbors came over Tuesday night to help remove a few dead branches from a large tree in my backyard. I ended up with a nice pile of new firewood and a lot of branches to burn. Wednesday night I decided to have a campfire using my newfound fuel wood. For nearly three hours I, along with my nephew, enjoyed sitting around, shooting the breeze, and burning a large pile of dead wood and branches. We never let the fire outgrow the fire ring, and I had my garden hose next to my chair just in case any little sparks tried starting a new fire on the dry lawn. I even wetted the lawn around the fire site before I began burning anything. You can never be too safe you know. (All that BSA training!)
When 9:00 arrived I decided to start letting the fire die down to coals and quit putting new fuel on the flames. There was already a large pile of coals. At 10:00 I decided it was time to go inside and call it a night. I wet down the fire, stirred the coals, wet it one more time, and stirred the coals again. I put my hand over the fire site and felt a little warmth, but nothing really hot. I went inside the house.
At 1:30 I woke up and went into the kitchen for a glass of milk. I looked out the window and noticed there were a few red coals glowing in the fire ring. That is interesting, I thought. Did I go outside and put out the coals? No, I did not. I went back to bed.
In the morning I woke up, ate breakfast, and prepared to go to work. I thought I should check out the fire ring as I walked by it on the way to the garage. I put my hand near what I thought should be cold coals, but I felt some heat. Not burning hot, but very warm. Did I take the garden hose to the fire remains? No. I walked into the garage, hopped into the car, and went to work.
I decided to eat lunch at home. The warm coals had been nagging the back of my mind all morning. Before I even made lunch I walked to the backyard to check out the fire ring. The first thing I noticed was that there was more white ash then there had been when I left for work. My hand quickly determined there was more heat then this morning also. I did not see any red coals but there definitely was something smoldering inside that decorative metal ring. I turned on the garden hose and drenched the coals and stirred them well. I did not need the neighborhood going up in flames after I left to go back to work.
When I arrived home tonight I walked straight to the fire ring. This time it was cold out. There was not any heat or warmth to be felt. But it had me thinking about it all day. Even after 15 hours of "putting out" the fire there was still enough heat to turn coals to ash. I had better start practicing a COLD cold out test from now on. It would be quite embarrassing for this retired scoutmaster to start a lawn fire in his own neighborhood.
Maybe I should tear off a corner of my Firem'n Chit card?