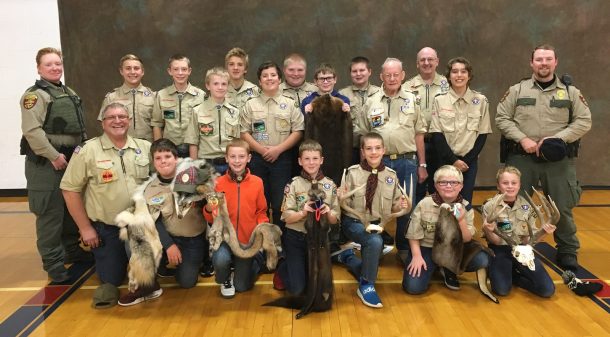 Melrose Troop 68 had chosen the theme of hunting and gun safety for the month of October. This theme almost begged to have special guests brought in. After a short discussion it was thought to have someone from the Melrose police department come to talk to the Scouts during one meeting and someone from the Minnesota Department of Natural Resources come in for another one.
The police chief himself came to the October 14th meeting. Police Chief Craig Maus spoke with the Scouts about gun safety and some of the different types of guns. He certainly kept the boys attention as he displayed a few items he brought to the meeting. It is always nice the have Chief Maus stop by for a visit. He was a member of Troop 68 for a short time as a youth.
At the following week's meeting two officers from the Minnesota DNR stooped by to talk about the hunting rules in Minnesota. Officer Caleb Silgjord and his associate not only talked about hunting laws but they also brought along various animal furs for the Scouts to check out. Once again, the Scouts had a good time learning about hunting and gun safety.
The troop would like to thank the officers for coming to their meeting and sharing their knowledge.