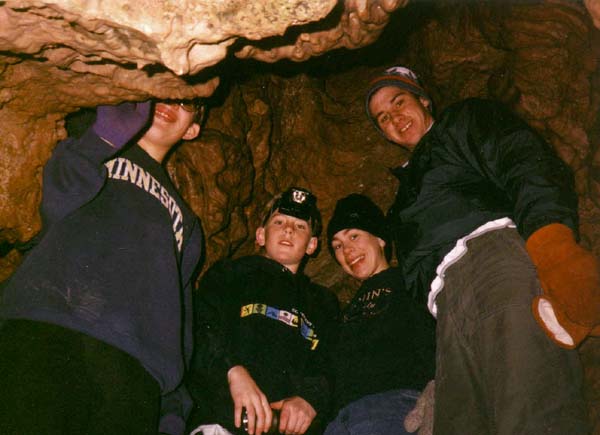 The first time the Boy Scouts of Troop 68 scheduled a trip to southern Wisconsin to spend a weekend at Eagle Caves we had one young Scout who was very excited about going spelunking. In fact, after a month about hearing him talk about nothing except spelunking we finally had to turn down his excitement a bit because it was getting on everyone's nerves.
Eagle Caves is a large privately owned cave. Scouts and youth groups can make arrangements to spend the weekend camping in and exploring the cave. Campgrounds, a shower house, and a dining hall are all located on the site. We visited the cave during the winter months so we chose to stay inside the cave, along with a couple dozen other troops.
Due to the seven hour trip from Melrose to Eagle caves we did not arrive until after 11:00 Friday evening. The staff placed us just inside the entrance to the cave. The entrance had a door to keep the cave at a constant year round temperature.
After breakfast in the dining hall Saturday morning, the boys began their spelunking experience. The cave was quite large and they were many nooks, crannies, and tunnels to explore. The main areas of the cave were large and easy to walk through. Other areas, especially the tunnels, could be so small that you would crawl on your belly to get into them. It did not take long for the boys' clothes to be covered in cave dirt and slim.
Jeff, the father of one of the boys, and I were relaxing in the cave when his son and another Scout ran up to us. They were excited about a tunnel they found and they wanted us to follow them and explore it. Okay, we were game.
The tunnel entrance was small, like crawling on your hands and knees small. The boys charged into the tunnel, leaving Jeff and me to follow. We were starting to have second thoughts but we got down to the floor and followed them. Soon, we were flat on our bellies creeping through the shrinking tunnel. We could hear the squeals of delight ahead of us. The tunnel finally opened into a small area in with Jeff and I could stand at an angle, but the tunnel continued through another small opening.
As we stood there in that tight little area, I had a completely random thought. "What if an earthquake would happen?" I asked Jeff. That was the last straw. We were done. We could back on our bellies and shimmied our way back out of the tunnel.
Jeff and I did not explore anymore tight tunnels that weekend, but the boys had a great time.
.