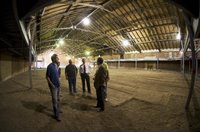 Here is some big news for the Scouts in and around the Twin Cities in Minnesota. The Northern Star Council has plans to open an "urban base camp" near Fort Snelling. Here is a portion of the article found in the Star Tribune:
The regional Boy Scout council's plan to create an "urban base camp" at Fort Snelling promises to bring life to an empty century-old building that has cost taxpayers at least $3 million. The current owner of Fort Snelling's old Drill Hall, the Minneapolis Park and Recreation Board, acquired it in 2000, but its plans for a skateboard park and other uses never materialized, and the cavalry building has sat vacant and unused.
Now the Boy Scouts of America Northern Star Council hopes to close on the building in November and to open its $7.25 million complex in October 2010, the centennial of the chapter's founding.
The urban location of the "Northern Star Base Camp" is unprecedented nationally. The council aims to reach out to city kids who haven't grown up going to the woods, said John Andrews, the council's scout executive. What's more, Scouts could take the Hiawatha light-rail line there.
I hope things work out well for this project. The full article can be found at http://tinyurl.com/3fsaop