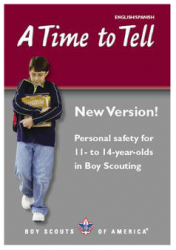 The theme for the Boy Scout Troop 68 meetings in April was personal safety. The troop had a local police officer come to the first meeting to talk to the Scouts about how to stay safe and what sort of things officers look out for when dealing with youth. It was my turn to talk about safety during the second troop meeting. I grabbed my flat screen television with the built-in DVD player and my copy of A Time To Tell. We would be watching some of the videos during the meeting.
A Time To Tell is a series of videos produced by the Boy Scouts of America. The DVD contains five videos. According to the scoutstuff.org website: With introductions and "reality checks" by teens for teens, A Time to Tell presents a variety of situations that young people may encounter. These scenes stress the importance of the three R's of Youth Protection: Recognize strategies and situations used by child molesters to isolate an adolescent that can lead to attempted molestation; Resist attempts of child molesters; and Report individuals who attempt to molest or who have molested in the past.
Due to the subject matter of the videos I invited all the parents to attend and watch the films with the Scouts. Several of them took the offer. Due to the time limit I was only able to show three of the videos. After each video I would ask the Scouts a couple questions and hold a short discussion. Later, as the boys played during their game time, I had the chance to talk to the parents. They all agreed that the videos did a good job of getting the message across to the boys and that we did a good job of highlighting the important parts of the videos.
Have you ever used the A Time To Tell videos within your own troop? How did the Scouts react?