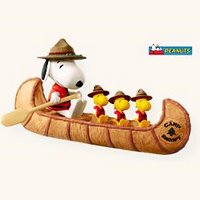 A year ago I wrote about my trip to a Hallmark Store before Christmas and discovering an ornament featuring Snoopy, the Beagle Scout, roasting marshmallows around a campfire with Woodstock and a couple of his friends. I left the store with two of the ornaments, one to hang on the tree and one to store away.
Out of curiosity, the other day I decided to check the Hallmark website to check if there was a new Snoopy ornament this year. Guess what? There is! The new ornament is called "Beagle Scout Day Out" and features Beagle Scout Snoopy canoeing with his yellow bird friends. It is pretty cool.
On Saturday I will be traveling to St. Cloud for an activity with the Boy Scout troop. You can bet that I will try to find a minute or two to stop at a Hallmark store to pick up a couple of these new ornaments. Of course, if I really wanted to, I could order it online at the Hallmark website, but why wait for it when I can get it sooner.