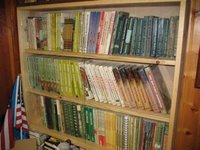 I still had my copy of the Boy Scout Handbook I used as a youth when I became an assistant scoutmaster in 1980. I bought a new handbook so I would be current, and picked up a scoutmaster handbook so I would have an idea what I should be doing. Then I bought a committee guidebook. Before I knew it, Scouting books began taking up space on the bookshelf. It did not take long before I had a small collection of Scouting handbooks.
The book collection kept growing during years as I began adding older editions of the books. I started with Boy Scout handbooks and scoutmaster handbooks, but soon expanded to committee books, fieldbooks, and Explorer handbooks. Soon there were handbooks about wolves, bears, lions, and a thing called Webelos in the collection. I began looking through used bookstores and flea markets trying to find new treasures.
I finally built a small 36″ wide, two shelve case for the collection. Grooves in the top and bottom pine boards allowed me to install a couple pieces of glass to be used as sliding doors, thus keeping most of the dust away from the pages. Several years later I built a three shelf case to house the growing collection. Today, both of those cases are nearly full.
In the eighties I could buy used handbooks that were in good shape for very good prices, usually only a few bucks apiece. Then, in the late eighties and early nineties, something happened. More people began collecting Scouting-related books. Handbooks became harder to find, and were more expensive when I did find them. I began passing on the few books I found because the prices were higher then I was willing to pay.
There are a couple of books that I am proud to have as part of the collection. The first is a 1941 two volume hardcover scoutmaster handbook set that is in near mint condition. One of my committee members found it at a flea market and called me to ask if he should pick it up. After hearing the price, I almost said no, but I am glad I said yes. The second is a 1932 edition of the Handbook For Boys (the Scout handbook at that time.) I picked that one at a local auction. It is the oldest Scout Handbook that I own. Someday, if the price is right, I hope to add an original Handbook for Boys to the collection.
The collection has not grown much during the last few years. I do not actively search for books any longer, but if I come across one I need to fill a gap in the collection, and it is a decent price, then I will leave the store with it.