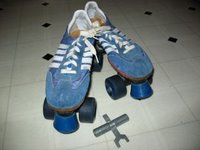 Today, the Boy Scouts of Troop 68 will participate in the yearly LPMRB outing. It is a twelve hour activity extravaganza that is very popular with the boys.
The outing begins with a few hours of rollerskating at a local roller rink in St. Cloud. "Rollerskating?" you ask. Yes, rollerskating, or inline skating. The boys still enjoy getting out once a year to skate. The younger boys learn how to skate while the older boys like to do some socializing. It is still a great social activity.
After the work-out at the roller rink, the troop heads to their favorite pizza place for supper. We have discovered that four boys per large pizza seems to work out well. As we eat, the Scouts review the day at the rink and talk about other subjects interesting to the life of teenage boys.
One topic that must be discussed is which movie to see when we leave the pizzeria. Of course, this being a Scout activity, no R rated movies will be allowed. A PG-13 movie could be allowed depending on the reason for the movie, and how strong that reason is. For some reason, I do not think that the new movie Twilight will be high on the list today. I think we will be going to the new James Bond flick.
The final activity of the day is Midnight Bowling at the local bowling alley. This will take place from 11:30 pm to 1:00 am. I am amazed by how much energy the boys still have at this point of the day. (Of course, some Mountain Dew helps things along.) They are usually still going strong, looking to bowl that perfect game, or at least get a strike on their score sheet.
I have heard from many parents over the years that the boys fall asleep quickly once they arrive at home. They usually sleep as late as they are allowed on Sunday morning.
I will admit that this is not your typical Boy Scout outing, but it is a part of our boy-planned yearly program. It is an activity that most of the boys enjoy, and it is very well attended. In fact, nine of the ten members of the troop will be going along today. It has proven to be a good one-day activity for these Minnesota winter months.