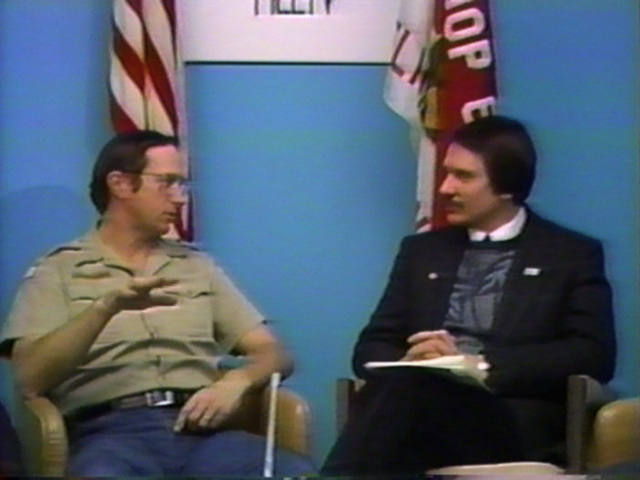 It is hard to believe that it has been over twenty years since some volunteers at Mel-TV 3, our local community access television station, recorded a show in which five men were interviewed. Each gentleman was very involved with the local Scouting program. It turned out to be a fun and informative show. It was filmed with VHS tape unfortunately and is showing its age.
A few years ago I decided to transfer some of those old tapes of Scouting programs to my computer and burn them to DVD before they deteriorated any further. "The Leaders Of Scouting" was one of those shows. Once I had it on the computer I decided to break the nearly two hour show into five smaller segments and post them to the Melrose Scouting Productions video podcast. The first segment was posted nearly 21 months ago. I guess I should have been a bit more diligent about posting them on a more timely basis. But never fear! Today I post part five, the final portion of the television show.
Mike R. began his adult Scouting career when his son John joined Cub Scout Pack 68 in Melrose, Minnesota. When John crossed over to the Boy Scout troop, Mike followed and became a committee member, and soon accepted the committee chairman position. During this time Mike also served as a unit commissioner. Dr. Hedglin, the show's host, has a great time asking Mike R. about his positions in Scouting. The other guests are still on hand so the show soon involves all five guests as they reminisce about their time in Cub Scouting and Boy Scouting.
As this series comes to a close I would like to take a moment to once again thanks all five guests: George O., Joe T., Mike H., Gerry W., and Mike R. I would also like to thank Dr. Hedglin for hosting the show. He did a great job. Thanks also goes to the Mel-TV 3 volunteers who spent an afternoon filming the program.
I hope you enjoyed The Leaders of Scouting series on the Melrose Scouting Productions Podcast. Please post a comment and let me know what you thought of them, and if you would like to see more of this type of program.
Click here to DOWNLOAD and watch this Podcast.
Subscribe to Melrose Scouting Productions Podcast through iTunes.
or at http://feeds2.feedburner.com/melrosescoutingproductions
Check out other Scouting podcasts at PTC Media.
Show Notes:
The Leaders of Scouting episodes:
George O. – Episode #46
Joe T. – Episode #51
Mike H. – Episode #61
Gerry W. – Episode #72
Mike R. – Episode #87.
Thank you for watching Melrose Scouting Productions Podcast.