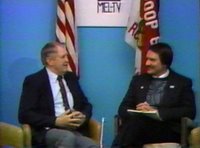 Twenty years ago I joined the board of directors for our local television cable access channel, Mel-TV. Earlier that year, several other people and I were learning how to properly use a camcorder. We decided to produce an interview-style show for the station featuring local men who were involved with the Scouting program to develop our camera skills.
After finding a host for the show we found five men who were willing to be interviewed for the show. One had been a cubmaster for several years. One had been a troop committee chairman, and a scoutmaster for a few months. One had been a member of the pack and troop committees. One had been a den leader and the chairman of the Boy Scout committee. The last one was a committee chairman and a unit commissioner. Each of them with bring different experiences to the show. And each of them knew each other thus adding a few more interesting stories.
The first person to be interviewed was George. George was one of the people who decided that Melrose needed a Boy Scout troop in 1979 and became one of the original troop committee members. He soon held the chairman position. When the troop's scoutmaster decided to step down a year later he took the position until a new scoutmaster could be found. During the interview they discuss the scoutmaster position, troop funds, rock climbing, poison ivy, and other topics.
This video post to the Melrose Scouting Productions Podcast features the interview with George. It is interesting to point out that nearly everything they talk about twenty years ago could still apply to Scouting today. It will be the first of five or six video shorts being created from the original show. The rest will be posted over the next few months.
Please leave a comment here using the link below, at the iTunes Music Store, or at the PTC Media forums. Or drop me an email at webmaster@melrosetroop68.org. It really is great to hear what you think about the podcast videos.
Click here to DOWNLOAD this Podcast
Subscribe to Melrose Scouting Productions Podcast through iTunes.
or at http://feeds.feedburner.com/melrosescoutingproductions
Check out the other Scouting podcasts at PTC Media.