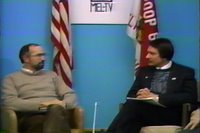 Twenty years ago the volunteers at Mel-TV, our local cable access television station, filmed a program in which five men who were Scout leaders were interviewed about their Scouting experiences. I took that old vhs tape and transferred it to a dvd. I thought to myself as I was transferring the program that many of the things being said by those gentlemen still apply to Scouting today. I thought I would break this show down into parts for the Melrose Scouting Productions Podcast, each part featuring one of the interviews.
This podcast video features the third interview from The Leaders of Scouting. Mike H. began his adult Scouting career as a Webelos den leader when his son joined the den. He moved to the Boy Scout committee when his son graduated into the troop. When the current committee chairman stepped down, Mike agreed to take the position for one year. That one year stretched into more then five years. During this interview Mike talked about being on the troop committee, going along on various troop outings, the values found in the Scouting program, and his pride in seeing his son earn the rank of Eagle Scout.
You are invited to leave a comment here using the link below, at the iTunes Music Store, or at the PTC Media forums. Or drop me an email at webmaster@melrosetroop68.org. It really is great to hear what you think about the podcast videos.
Click here to DOWNLOAD this Podcast
Subscribe to Melrose Scouting Productions Podcast through iTunes.
or at http://feeds2.feedburner.com/melrosescoutingproductions
Check out other Scouting podcasts at PTC Media.