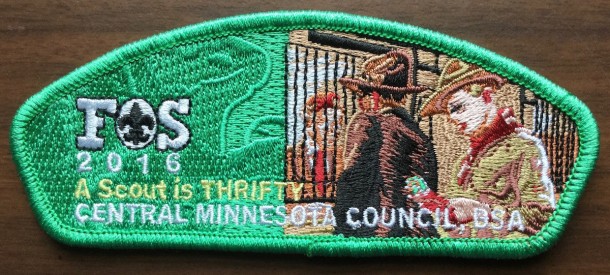 Several years ago the Central Minnesota Council added a new incentive to the annual Friends Of Scouting (FOS) campaign. If you met a certain donation level you would receive a specially designed council shoulder patch (CSP). Each year would feature a different point of the Scout Law. Twelve points meant twelve patches that could be collected. Being the patch collector that I am, I was hooked from the very first year.
This year marks the ninth year of this promotion so the 2016 patch has Thrifty as its theme. The csp features a vintage Boy Scout at the bank, ready to add some money to his saving account. There is a "ghost" design on the left side of the patch of a squirrel ready to store his acorn for future use. Even the animal kingdom practices being thrifty.
This means there are only three years left of the Scout Law council shoulder patches. I wonder what the design of the next one, Brave, will look like.
Other incentives of this year's Central Minnesota Council FOS drive included an electronics cleaning cloth, a Ripley Rendezvous water bottle or frisbee, and an Eagle Scout statuette.