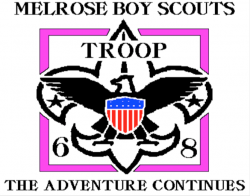 I like working with the Scouts. I think it is one of the best organizations for a boy or young man to be a member of. That is why I was a scoutmaster for thirty years, and than stayed on as a committee member. That is why I am now serving as a cubmaster.
I can usually juggle the troop duties and the pack duties without much of a problem. The pack meetings and activities are only three or four days a month. The troop only needs a few days a month of my time. It is pretty easy scheduling.
March was more challanging. The Cub Scout schedule was easy. The den meetings were held on the first Monday of the month. The pack meeting was on the third Monday. The pack committee meeting was on the 23rd. There was only three evenings of Cub Scout meetings.
My Boy Scout schedule, on the other hand, grew almost out of control. The troop decided to work on the Scouting Heritage merit badge in March. Guess who happens to be the merit badge councilor? I told the troop I would be able to attend the meeting the the second Monday, and could maybe get away from the den meetings on the first Monday, but the third troop meeting of the month I could not attend. I think this is a great merit badge for Boy Scouts to earn so I really wanted to help out as much as I was able.
The troop also had a court of honor on the fourth Monday of March. As the troop's advancement coordinator I planned to attend. The troop's spring fundraiser was a breakfast held on Palm Sunday. Since a fire at the local church affected our plans we held a special parents meeting to find a new location. I love to play play disc golf, so I agreed to be a chaperone for the month's disc golf outing held on Saturday, the 19th. I offered to conduct a junior leader training course for the newly elected junior troop leaders later that same day. And then, of course, there was the regular troop committee meeting. Oh, and don't forget the district roundtable. As you can see, my Boy Scout schedule became very busy in March.
It has been quite awhile since I have had ten days of Scouting meetings and activities in a single month. When I was the scoutmaster it happened quite often. In fact, it almost seemed normal. But this is not normal for my schedule anymore.
Oh well, it may have been a busy month, but it was worth it. And it was fun. And hopefully, several of the Boy Scouts will earn their Scouting Heritage merit badge.