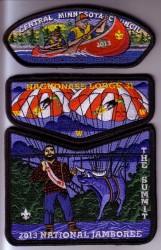 Yes, the 2013 National Jamboree may now be nothing but a memory, but I just received my set of patches from the Central Minnesota Council's Jamboree troop. Now I am ready to attend! Well, if I would have gone that is. I almost did not receive a set of this year's patches but Scoutmaster Mike of our Jamboree troop remembered me and saved me two sets. I now have council patches from the 2001, 2005, 2010, and 2013 National Jamborees.
I have to admit that I do like this year's patches. The council shoulder patch is quite colorful and features two Boy Scouts canoeing on one of the 10,000 Minnesota lakes. Or it could be one of our many rivers. Or could it be one of the lakes at the Summit? It is hard to tell from the patch. From the deep blue waters, to the bright red canoe, to the green pine trees in the background, and the white smiles on the Scout's faces, the colors and details really bring out a well designed patch for this year's event. Although it's trade value was maybe not as high as the Star Wars or Marvel patches I would still bet it was a well traded patch.
The Naguonabe Lodge put together a fantastic Order of the Arrow two patch set for the Jamboree. Once again it has keep the theme of featuring Paul Bunyan and Babe the blue ox, as they have for a few Jamborees and National Order of the Arrow Conclaves (NOAC). The two part patch features Paul and Babe parachuting into the Summit, the location of this year's National Jamboree. The pocket flap patch features the bright red and white parachutes with the feather totem of our lodge. The pocket patch features the two central characters in their harnesses about to land on a… lake?  Paul even wears a Brotherhood Order of the Arrow sash. (I wonder how many yards of material it took to make a sash for him, and where he slept for his ordeal conclave.)
So now I am curious. How many of you who attended this year's Jamboree took home these patches as part of your collection? What do you think about them? Let us know by writing a comment, and don't forget to tell us your troop number and what part of the country you claim as yours.