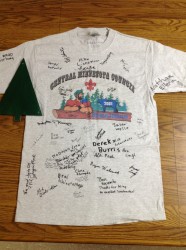 When Troops 1417 and 1418 from the Central Minnesota Council attended the Boy Scouts of America National Jamboree in 2001 we traveled to Virginia and back by chartered bus. Each troop had it own bus, but the busses stayed together. As the scoutmaster of Troop 1417 I enjoyed the three day journey to Virginia because it gave the troop's members a chance to get to know each other a little better before we arrived at Fort A.P. Hill for the big event.
On the way back home, after the Jambo was over, the air conditioner on our bus broke down. Even with the windows and the roof vents open it did not take long for the temperature to rise in the vehicle. It also did not take long for the Boy Scouts to remove their Jamboree tee shirts as they tried to remain cool. Luckily, the air conditioning was restored for the day day of traveling.
Those Jamboree tee shirts became more meaningful during our last night on the road as we returned home. Someone, I do not remember who, came up with the idea to sign each others shirts, like students do with their yearbooks. The cleaner one of each person's two tee shirts were laid out over a few tables at the place we were staying. Boy Scouts and the adult leaders moved from shirt to shirt singing their names with a permanent marker. Nearly everyone participated.
I thought it was an excellent idea. That signed shirt had now become a more interesting souvenir of the Jamboree, and a signed one to boot. My shirt immediately became a permanent part of my Jamboree collection once I arrived home. After it was washed, of course.
It would be fun to contact some of those former Scouts to discover if they still have those signed shirts. Did they pack them in a tote with other Jamboree memorabilia, or did they wear them until they became so thin they had to be thrown out? Maybe those young men do not even know were their tee shirts are any longer. After all,that was twelve years ago. Many have been to college during that time and a lot of them are now married with families of their own.