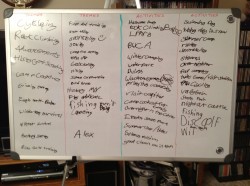 Boy Scout Troop 68 now has a program plan for the 2013-2014 year. I talked to the scoutmaster at last week's troop meeting to ask how things went at the year planning conference. If you recall from the last blog article, I was a little concerned over an item or two, namely that he invited the entire troop membership to attend and that he also invited all the parents. Turns out that I did not need to be concerned.
The parent invitation is the one that bothered me the most. If too many parents attended the meeting I was afraid it would become a parent planned program instead of a Boy Scout planned program. I need not have worried about it. Not a single parent, other than the scoutmaster and assistant parent, came to the session.
Unfortunately, not many of the Scouts attended it either. Most of the patrol leader council either could not attend, or decided not to attend. Only three boys showed up. One was the senior patrol leader, who happens to be the scoutmaster's son during this term, and another was a new Scout who just joined the troop and does not hold an office. Talk about getting involved right from the start. Although not many boys showed up for the session they went ahead and planned the yearly program.
The scoutmaster told me he really did not want to reschedule the meeting since only a small group of Scouts attended. I had to agree with him. The boys and families had known about the session for over a month. If he would have rescheduled he would have had no guarantee that more Boy Scouts would have attended. And it would have pushed the scheduling process back another week or two or three which could have caused us to miss the presentation of the new schedule by the senior patrol leader at this month's committee meeting. If it would have been rescheduled for later in the month it also could have got in the way of this month's outing.
I think they did the right thing. If any parents or Scouts want to object about the new program, well, all we have to is ask them where were they on Saturday, August 6th. After all, everyone was invited to come and give their two cents at that time.