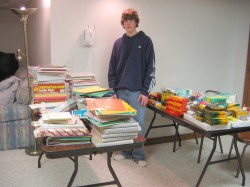 (The following article was written by Brad Schulzetenberg, an alumni of Melrose Boy Scout Troop 68. Brad was a member of the troop from 2000 to 2005. He earned the rank of Eagle Scout. It is the third of a series of guest articles written by former members of Troop 68.)
Over the past 100 years, there have been over 110 million young men that have called themselves members of the Boy Scouts of America. What makes Scouting a great organization is that if you were to ask each of these 110 million Boy Scouts about their experience you would get 110 million different responses. My personal Scouting experience started in May of 2000, and unlike many Scouts, without a previous Cub Scout background. At the time, my perception of Scouting was camping, hiking, and tying knots, so I was unsure of what the scouting program had to offer. As I reflect back on my years of Scouting, I realize the vast positive impact it has had on who I am today.
During my tenure as a Boy Scout, I was able to travel to some pretty cool places. In the summer of 2001, I attended the National Boy Scout Jamboree in Fort A.P. Hill Virginia. The 2001 National Jamboree was attended by over 40,000 scouts and leaders from around the world. I was fortunate enough to be one of the 72 Scouts from the Central Minnesota Council to have the opportunity to attend this event. I became a member of the Jamboree Troop 1417 with other Scouts from around Central Minnesota. In the months leading up to the Jamboree we had many meetings where we got to meet our fellow troop members, split into patrols, chose names, and designed troop and patrol flags.
One of the most unique experiences at the Jamboree was trading patches with other Scouts. Before the Jamboree, every Boy Scout Council designed a special patch for the event. Often times the patches were personalized for their particular area of the country. In addition to interaction with others, I also was able to participate in activities such as rock climbing, snorkeling, kayaking, and scuba diving. On our trip to Virginia for the National Jamboree we did a lot of sightseeing as well. We stopped in Cleveland to see the Rock and Roll Hall of Fame, spent two days in Washington D.C., and on the trip home we stopped in Virginia Beach and Norfolk. Being able to interact with other Scouts from around the country, share stories, enjoy activities, and sightseeing was a once in a lifetime opportunity for me as a scout.
My most enjoyable Scouting experience was a hiking trip to the Philmont Scout Ranch in Cimarron, New Mexico during the summer of 2004. On this trip we spent 11 days hiking and camping in the wilderness while carrying everything that we needed to survive, including food, water, and sleeping gear. The Philmont experience is based around the principle of "low impact camping" in which the Scouts and leaders are encouraged to leave the campsites and hiking trails in the same, or better, condition as they were found. Each group of scouts and leaders that attend Philmont must complete a service project to improve hiking trails and campsites to preserve the natural environment. In addition to learning outdoor survival skills, I had the opportunity to hike the 12,441 foot tall Mount Baldy, which is the tallest point in Philmont. This was the most physically challenging and satisfying part of this trip. Everyone in our group made the hike to the top of the mountain which was a wonderful achievement or entire team. The Philmont experience is something I will always cherish and I hope someday I will have the opportunity to go again.
From the moment I became a Boy Scout at age 13 I always had the goal of becoming an Eagle Scout. Fortunately for me Troop 68 encouraged advancement and earning merit badges. When I first joined the troop there were several older members that had already become Eagle Scouts and they served as a good example for the younger scouts. During my years in scouting I attended many troop outings and summer camps as well as held a variety of leadership positions including patrol leader and senior patrol leader. This involvement helped me gain the understanding of the commitment needed to become an Eagle Scout.
For my Eagle project I held a drive in our local community and schools to accumulate school supplies and teaching materials for schools in Bosnia. I got this idea from a former Scout who was serving in the US military stationed in Bosnia at the time. In letters, he made me aware of the large need for supplies to help better the education. The support from the community was awesome, I received large amounts of supplies from local students and teachers. I even received a generous donation for the local Lions Club to purchase teaching materials. My Eagle Scout award has always been a rewarding accomplishment for me because less than five percent of all scouts have earned this award and it shows how much dedication and hard work I put forth to reach my goal.
My Scouting experience has benefited me in my adult life in ways other than just lifelong friends and memories. Many people understand the importance of the Eagle Scout Award and for that reason I have always kept this accomplishment on my resume. In doing so, it has given me opportunities that may not have otherwise been available. While interviewing for a Design Engineering job at 3M (my current job), I spent a good portion of the interview talking about my experiences in Scouting and my Eagle project. The interviewer (my current manager) is actively involved in Scouting and has a son that is also an Eagle Scout. My manager has since told me that my Eagle Award was an important consideration in his decision to give me a chance to interview and eventually offer me a job.
Through my job I have been a team leader for our 3M Engineering Community Giving campaign. As a leader of this team, I plan and coordinate volunteer events with other employees. My past experience doing service projects and leading my Eagle Project have given me a good perspective on how important service to others is. I have relied on my diverse background of service to others to help me identify volunteer opportunities for my company.
The Boy Scout organization has been vital in shaping me into the person I am today. I learned many life skills, had unique opportunities to travel, and learned how important giving back to others can be.