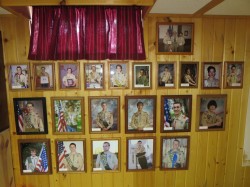 Melrose Boy Scout Troop 68 does not have a building or a room to call its home, so my basement family room is the place I have created a "Scout Room". It contains collections of Scouting coffee mugs, awards, and other stuff. The troop holds its patrol leader council meetings, committee meetings, and some training meetings there.
Photos of Troop 68 Eagle Scouts hang on the west wall. There was always a couple Scouts missing because I did not have a good picture to post on the wall. This morning I decided I needed to have photos of everyone, whether they were an actual Eagle picture or not. I searched through my photo collection and picked the best pictures of those missing Scouts, printed them, and placed them into frames.
The wall is now complete. All 21 of the Boy Scouts of Melrose Troop 68 who have earned the rank of Eagle Scout now have a place on the wall. There is even room for one more. Could that spot be filled by the Boy Scout who has an Eagle board of review on Tuesday?
By the way, do you have any idea how hard it is to take a picture of a wall of framed glass photos and not get a reflection?