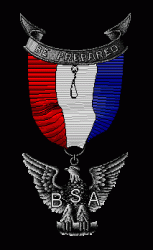 If you have been following me for awhile you are aware the I have a Flickr account to which I have posted thousands of pictures featuring over thirty years of Scouting in Melrose. I also belong to several Flickr Scouting themed groups, and I am the administrator for the Flickr Wood Badge Photos group.
I wanted to recently find a group to share photos from Eagle Scout ceremonies and celebrations. I did a search and to my surprise I did not find a public group. So I decided to start one. I decided to name it simply "Eagle Scouts". It can be found HERE.
I invite you to share your photos of your troop's Eagle Scout courts of honor and celebrations. Be sure to join the group. Let's make this a great group to showcase those special Boy Scouts who have attained the rank of Eagle.