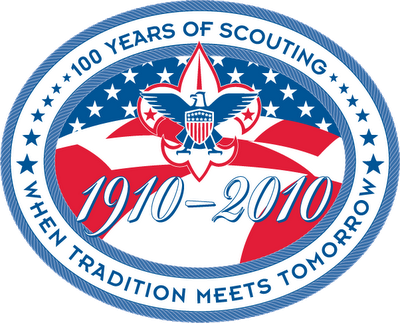 Unless you have been hiding in a cave somewhere you have probably heard that the Boy Scouts of America are celebrating their 100th anniversary this year. The United States of America Congress granted a charter to create the B.S.A. on February 8, 1910. Since that day there have been over 100 million boys who have joined the organization.
The B.S.A. has been planning some fantastic events to celebrate the anniversary. There has been a colorful float in the Rose Bowl Parade, a partnership with Dale Coyne Racing, the historical merit badge program, and the upcoming 2010 National Jamboree, just to name a few. Councils, districts, packs, troops and crews are also planning special events.
I have an idea. Let's try to bring this to the public eye in another arena. Online. On YouTube. Let's pick a couple videos that have a Scouting theme and then, on February 8th, we have our Scouts, families, and friends watch those videos. Let's see if we can't get enough hits that day to bring those videos to the YouTube front page. Could we make one or two videos go "viral"?
If this is to work we need to get the word out to as many people as possible. We will need the involvement of packs, troops, and crews. We will need the councils and districts to spread the word. We need blogs to blog about it and people on Twitter to tweet about it. We will need hundreds of thousands of people to watch these videos on February 8th if we are going to make an impact.
I would like to make a few suggestions for the videos we could watch: one B.S.A. promotion video, one video showing Boy Scouts performing a skit, and one showing Scouts having fun on an activity. If you have a suggestion please leave a comment below.
The B.S.A. Promotion video – This one was suggested to me when I asked for suggestions on Twitter. It is titled "Feel Proud" and features Cub Scouts and Boy Scouts doing community service projects to a catchy musical tune.
http://www.youtube.com/watch?v=9csn7asa8Nc
Boy Scout Skit – I am choosing a skit which is one of my favorites, The Furniture Store. This video was performed by the Boy Scouts in my troop during one of their community shows.
http://www.youtube.com/watch?v=MbWYdwSPOJo
Scouting Activity Video – I thought this was a cute video of Cub Scouts doing their version of the Cub Scout Promise, rap style. And it is only a minute long.
http://www.youtube.com/watch?v=tIob4dY2XLY
So there you go. Get out and spread the word! And watch video on Monday, February 8th.