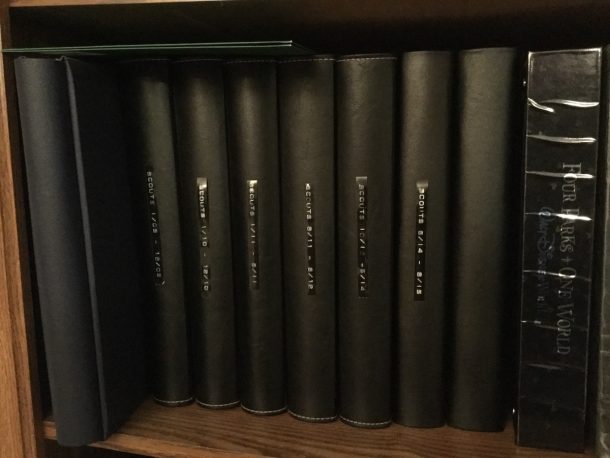 I have a lot of photo albums. Scouting photo albums, that is. Most of them include pictures of troop meetings, weekend outings, summer camps, and courts of honor. There are also albums of the trips to Philmont Scout Ranch, the High Knoll Trail, and the 2001 National Jamboree. In total, there are 39 albums of Boy Scout Troop 68, covering activities from the mid 1970's through this year.
The reason I am posting about this is because I just finished putting the last photograph in the 39th album this week. This brings me up to May 2016, the troop's Camp Watchamagumee outing. It is time to start another album. Or is it?
As I was placing photos into the page sleeves I began thinking to myself, maybe this should be the last photo album I create of troop functions. After all, the only time they get viewed in when I use them for in displays for Scout Week in February or at one of the troop's meal fundraisers.
I also began thinking about the cost of each album, not just the book but also the cost of printing the pictures. Each finished album runs about $40-$50 by the time it is done. When you stop to think about it, I have a lot invested in these albums.
Then I thought of a third point. Most people, including myself, are more into looking at photos on their phones and tablets than they are to picking up an physical album. That was the main reason I bought an iPad. Not to play games but to carry my photos with me. Add to this that we all share digital photos so easily these days it begins to make little sense to create physical photo albums.
Finally, what is going to happen to all these albums when I am done with Scouting? No one is going to want them. Our troop does not have its own hut or building. (We meet in a school gym for meetings.) The only place that may want the books is our local historical museum. Yeah, they would probably love to have over 36 years of local Scouting history to add to their collection.
So there it is. In this digital age I really do not see a reason to create any more Scouting photo albums for Troop 68. What do you think? Am I wrong for thinking this way?