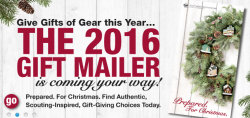 For the last few years I, along with many other Scouters and Scouts, have been buying the Scouting Village collection pieces. Last year my village filled an area larger than two foot by four foot. That was without all the 2015 pieces as part of the display. It would be a fair size larger this year. The Villa Philmonte piece, which is the larger piece of the collection, takes a good chuck of real-estate by itself.
I have been waiting for the B.S.A.'s holiday mailer to arrive to see what this year's pieces would add to the collection. The mailer has arrived. Disappointment has arrived with it. There are no new pieces shown in the flyer. I always wondered how long there would be new "buildings" to add to a Scouting village. After all, the village seemed to be based on a summer camp theme. There are only so many buildings found at a summer camp. While last year's Villa Philmonte building was nice, it really did not fit well with the rest of the collection.
So, did the people in charge of the collection finally run out of ideas? Or did last year's collection not go over very well. (I know the Villa piece was rather expensive.) Is the collection done, or could there be more pieces next year?
It got me thinking. What other pieces could be added to the Scouting Village collection? Here are a few suggestions. How about a nature center, or a handicrafts lodge? A first aid/health lodge would be a good fit. A climbing tower, with climbers , would be something I would buy. How about a sauna for the beach area? We already have some larger wall tents, but how about some smaller backpacking tents? A summer camp needs an administration building. How about a horse stable and corral? Gosh, there are enough ideas for any other two or four years worth of buildings! And don't forget the Scouts and leaders figurines.
Maybe it is a good thing for this to come to an end. The village would just start taking up too much room in the house if it kept going. But then, I could really just change things up from year to year. The are no rules saying I have to put up all the buildings up every year, but knowing me I would have to try. My house is not that large which means a fair portion of my living room would get used.
I may not set up the village this year. I have volunteered to have the troop's Christmas party at my house so I think I will need all the room I have for the Scouts to use, especially since the patrol leader council has decided to invite the 5th grade Webelos Scouts to join us. The living room will already be a bit crowded as we gather to watch the movie. I would have to find somewhere else to set up the village if I do set it up.
How do you feel about the lack of new Scouting Village pieces this year? Have you been collecting them?
By the way, if you would like to see my set up from last year I do have the video posted to Youtube. It can be seen at https://www.youtube.com/watch?v=QJ2_xh_acto .