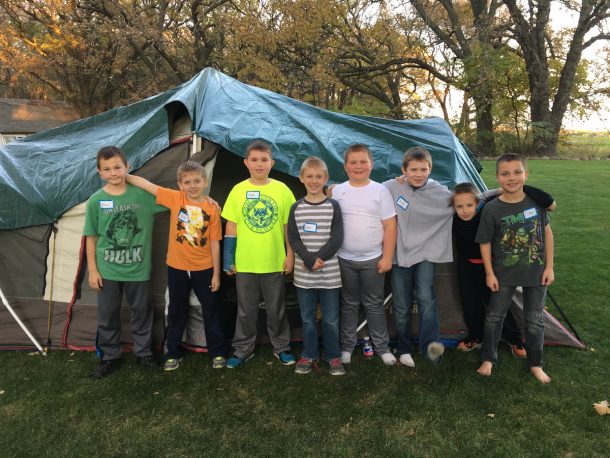 The Bears Den of Melrose Cub Scout Pack 68 had fun last weekend. They had their first overnight camping trip. It was held a couple miles south of Melrose in the backyard of one of the families. With a nice big backyard, and hiking trails nearby, it was a good spot for this fun activity. Eight of the ten Bear Scouts were able to attend the outing. I believe they each had a parent in attendance.
The Bears were kept busy with several activities. They assisted in setting up the tents and laying out their gear. They took a hike to a nearby gravel pit, watching for animal tracks along the way to complete an award requirement. They learned about pocket knife safety as they earned their Whittling Chip badge. And, of course they played games. It is amazing how much noise eight third grade boys can make when they are having fun together. After it got dark, it suddenly grew very quiet, like someone had turned off the volume switch. It did not take long to discover the boys had decided to play a game of hide and seek. After that game was done the noise level rose again.
I did not stay for the overnight. I did attend for a few hours, enough time to have supper with the den, chat with the parents in attendance, and have a little fun with the boys. My true reason for being there was to tell a story around the campfire before they turned in for the night. The story I chose? The Purple Gorilla story. It is a good story for that age group. Even the adults enjoyed it. As the story's suspense reached its peak toward the end of the tale, I had everyone's full attention. In fact, at one point I think everyone one of the boys jumped, and maybe even a couple adults. As I finished the tale with its interesting twist, the Scouts laughed and the adults smiled.
It may have been a quite suspenseful story, but it really is not a scary story. In fact, one of the fathers told me the next day that the Scouts fell asleep very quickly once the turned in for the night. No nightmares were to be had. Let's face it, the boys were worn out. The night did get a bit chilly though. It temperature dropped into the upper thirties Sunday morning. The young Scouts did not seem to mind very much. It was just another part of their weekend adventure!