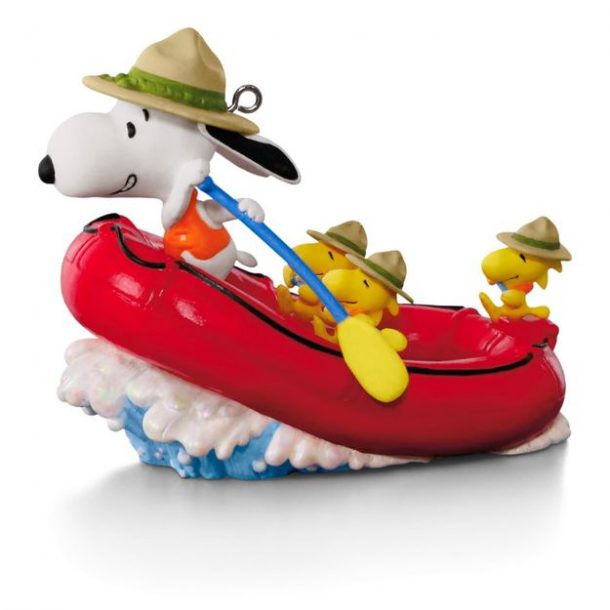 It is that time of year again. Hallmark stores have started selling the 2016 Christmas ornaments. And yes, once again, there is a Snoopy the Beagle Scout ornament for us involved in Scouting to enjoy.
This month's ornament features Scout Leader Snoopy and three of his "Scouts" as they head out on a white water rafting adventure. They must be moving pretty fast because Snoopy's ears are nearly flat in the rushing wind. You can almost imagine the little guy on the back of the raft being thrown overboard as soon as the raft hits its first serious white water. No reason to worry though. Snoopy is a Beagle Scout and knows what to do in case of an emergency. As you can see, everyone is wearing a PFD.
The cost is $15.95 each.  The ornament can be found in Hallmark stores and on the online site at: http://www.hallmark.com/ornaments/keepsake-ornaments/the-peanuts-gang-snoopys-white-water-adventure-rafting-ornament-1595QXI3294.html . These ornaments always seem to sell out.
I picked up mine already to add to the many others from previous years. I actually bought two of them, one to put on the tree, and one to store away for the collection. Do you plan to get one for yourself or someone you know in Scouting? Or did you get one already?