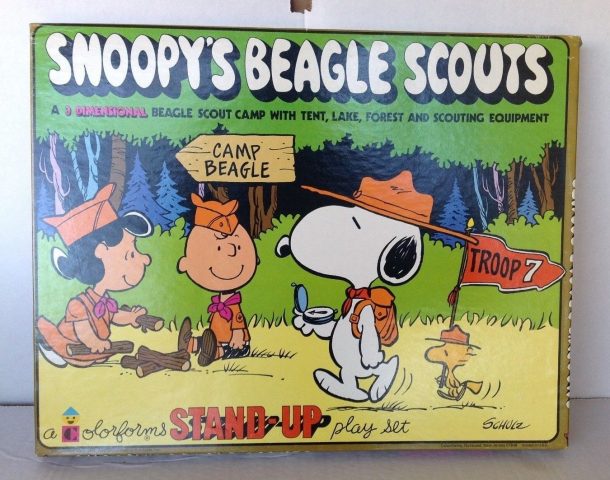 I am always keeping an eye out for Beagle Scout Snoopy items. I just like the combination of Scouting and Peanuts, I guess. After writing the last article I decided to have a quick look on eBay to see what other Beagle Scout Snoopy items were being offered for sale. Like usual, there are a lot of Hallmark ornaments for sale. One item in particular caught my eye because I never knew it even existed.
There is an auction for a vintage "new in box" Snoopy's Beagle Scouts Stand Up Colorforms Play Set. I remember playing with Chloroforms when I was a kid. I do not ever remember seeing this playlet on the store shelves. Of course, maybe this set is not that old. I am not able to see a date on the box cover. I thought it might be fun to have this in my collection… until I saw the price of $39.99, plus $14.00 postage. Sorry, I do not want it that badly.
I found another auction of the same playlet in used condition going for less than $10.00, plus postage. Notice the word "used". After reading the description I decided I did not want to bid on that one either.
I am not going to list the links here because they will soon be outdated, so if you wish to find the play set just do a search for it yourself. I still think it is a pretty cool item. What do you think?