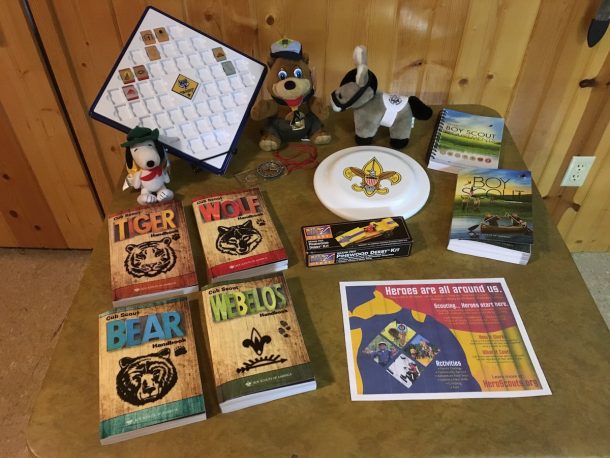 School Night To Join Scouting will be held throughout Minnesota on Thursday, September 22nd. This year's theme is "Heroes Start Here", which nicely fits in with the current wave of superhero movies and television shows. I have to say, I like this theme better the the Rocket Into Scouting used over the last few years.
As the recruitment event approaches there are a few other things we can do as a pack and troop to prepare for the big evening. One of these to to have a table set up at the local schools' open houses coming up next week. The idea is to get Scouting out in front of the boys and parents early so they can begin to think about everything this program can offer their families.
Of course, if we are going to have a table at a school's open house we will need someone to sit at that table and hand out materials, and answer any questions. We have three elementary schools in our area at we would like to have a table set up. St. Mary's Catholic School has their open house on Tuesday, August 23rd. The Melrose Public Elementary School has theirs on Wednesday, the 24th. Sacred Heart Catholic School in Freeport has theirs on Thursday, the 25th. I believe each school is holding the event from 4:00 to 7:00 in the evening.
I have been preparing a few items to place on the table to try to catch the attention of the boys and, more importantly, their parents. The picture shows a few items I have thought about having on display. A Pack committee member, who attended this month's kickoff at a district meeting earlier this month, also has a few items from the council to add to the display, including flyers about School Night To Join Scouting.
We will need people to sit at the tables. Jesse, our new assistant cubmaster, has agreed to sit at the Sacred Heart School open house. I may be able to attend the Wednesday night one, but I have a Boy Scout event I wish to attend on Tuesday. Hopefully some parents will come through and volunteer a bit of their time to get out the word about Scouting.
Does your troop or pack set up a table during your school's open house? What do you set out on the table. Leave a comment and let us know. Thanks.