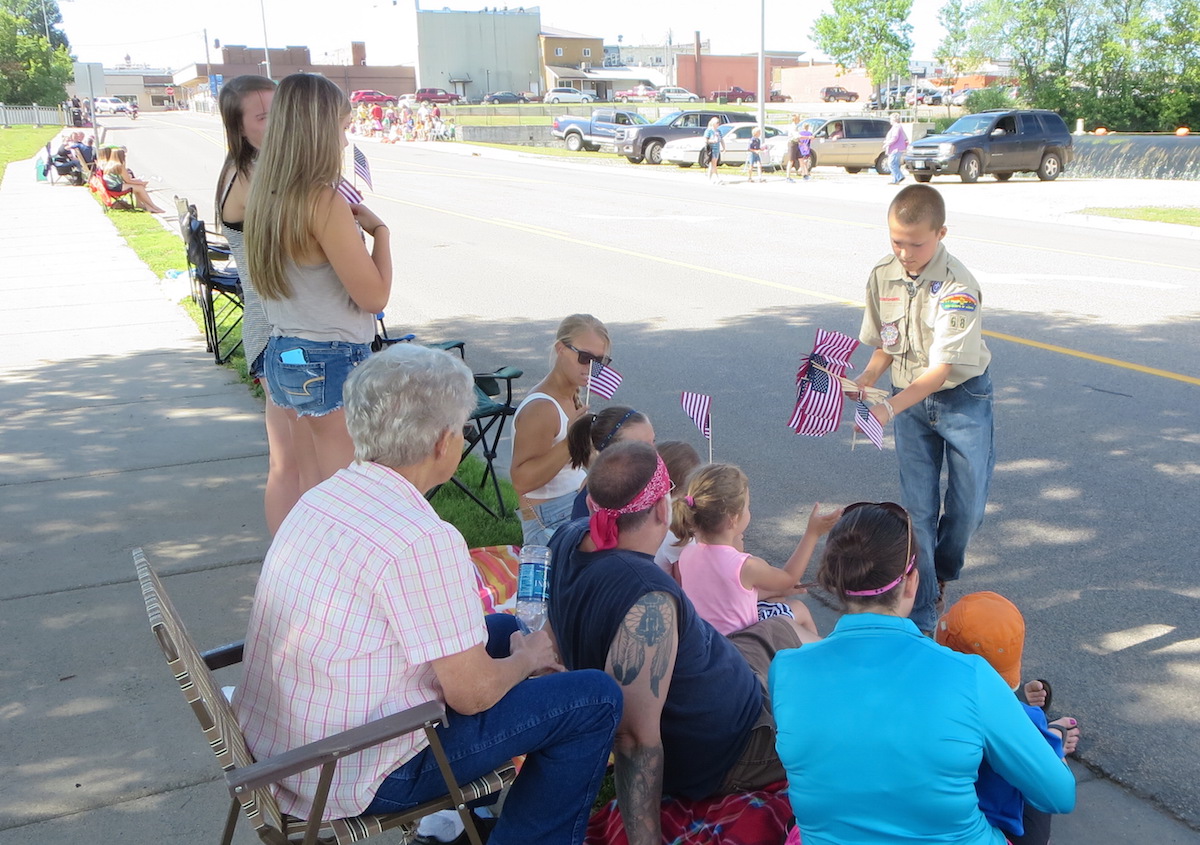 When does something become a tradition? If it is done for seven years, does that qualify? If it does, than the Boy Scouts of Melrose Troop 68 have a tradition to be proud of. This was the seventh year that they have handed out 4″x6″ United States flags before the Riverfest parade in town.
The troop committee began discussing this activity a few months ago. Letters were sent out to the local VFW post and American Legion Club to help with the cost of the flags. I found American-made flags on sale at the United States Flag Store website for 18 cents each. I placed an order for 1250 flags before I heard from the two organizations, counting on them to come through on covering the costs, which they did. The flags arrived in May. We were set to hand out colors once again.
That is, if enough Boy Scouts showed up to walk the parade route. With thirty minutes to go before the start of the parade only three Boy Scouts and one Cub Scout had arrived. We knew it was going to be a busy family weekend so I was glad we had at least four Scouts to walk. One mother and I grabbed the two backpacks. Two Scouts and one adult would walk along each side of the street handing out flags to those who wanted one. By the end of the one and a half mile route all the flags were gone! Kids loved receiving a flag, as did many of the adults along the route.
We finished with the flags in time to walk back along the route to sit with our families and friends to watch the parade. You should have seen all the candy thrown out by the parade participants. You should have seen the candy still laying on the street, along with some trash, after the parade. Actually, it was not as bad as other years, but there is always some clean up required. I am happy to report that we did not see one USA flag laying around unwanted after the festivities! Everyone took them home.
This is a tradition we shall probably continue for a few more years. As long as the VFW and the American Legion support it, and the people lining the parade route want them, I think the Melrose Boy Scouts will continue their version of a patriotic hike.