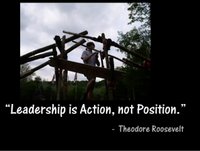 I am veering away from the usual song or skit video found on the Melrose Scouting Productions Podcast to bring you something created by Eagle Scout Doug Gray. A couple years ago Doug's father, Fred, asked me for some assistance in finding some Scouting videos that his council could not find for him. Fred recently wrote me to share a few videos created by his son. Here is a portion of that email:
My son just completed his Gold Palm and put together some videos. One of the DVD presentations was for this spring's Buckeye Council NYLT. He is going to be JASM and will present "The Leading Edge, How To Be An Effective Leader." Doug made an interactive DVD presentation in which he (as Napoleon on stage) interviews Napoleon on the screen. For
Youtube
he filmed both parts and put them into a complete presentation. Doug spent months on the project and then broke the presentation into four parts (he left out the first segment about Storming, Forming, Norming, etc because only NYLT people would understand that). The parts on Youtube Doug made because he felt that the National canned presentation was too much "how" and not enough "what" as far as leadership for 14 year old kids.
The best part of the whole presentation was about the Scout Law according to Great Leaders – Doug made that into a separate Youtube video. He is going to use it at his Eagle Palm presentation in a month.
I watched both videos and was very impressed with Scout Law video. After a quick email of my own, I received permission to share Doug's video through this podcast. Fred wrote that Doug made the videos to share, so if you have an opportunity to use this within your troop, council, or district than do so.