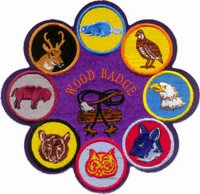 The Friday that I had been both dreading and excited about had arrived. It was time to go to the first weekend of Woodbadge training at Camp Stearns in central Minnesota. I was dreading it because I did not know if I would know anyone in attendance other than Paul, the culprit who signed me up for the training. I am pretty shy and it takes me a while to warm up to new people. But I was also excited because this was Woodbadge, the ultimate Scout leader training course.
It did not take long to find a few people from my council that I knew once I arrived at Camp Stearns. I have known Bruce since my days as a Boy Scout. He worked on staff at the summer camp I attended, Parker Scout Reservation. I knew Jim through roundtable meetings and council family camp weekends. Jim was also known as Skunk because of the striped cap and coat he wore when camping, which we suspected was made from real skunk hides.
John was also from the Central Minnesota Council and was the fourth member of our patrol. He was the scoutmaster of a troop in St. Cloud. The final members of our patrol were two female Scout leaders from the Viking Council, Mary and Marge. So, we had four men and two women in our group. We all got along great and formed a good, if somewhat mischievous, patrol.
It was time
to receive our patrol name. Would we get to be the agile Antelopes? Maybe the wise Owls? How about the mighty Bears? I liked the idea of being a high flying Eagle. Imagine my disappointment when I discovered we were to be the Bobwhite patrol. A bobwhite? A small game bird? Come on guys, get real. But the Bobwhites we were named, and the Bobwhites we would be.
We actually had a lot of fun as the Bobwhite Patrol. We came up with a cool flag, created a nice sign for our camp, and came up with an awesome totem. Bruce even found some small yellow beaks for us to wear by the second weekend of training.
"I used to be a Bobwhite, and a good old Bobwhite too. But now I've finished Bobwhiting, I don't know what to do." We are the Bobwhites. Beware!
Watch for more stories about my Woodbadge training.