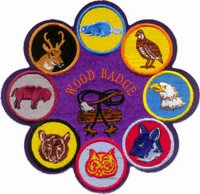 I was beginning to feel a little burned out after serving as the scoutmaster of Troop 68 for six years in the fall of 1987. I told Paul, a great Scouting friend of mine, how I was feeling about Scouting. He suggested that I attend a Woodbadge training course. Woodbadge would get me energized.
I had heard about Woodbadge, that it is like the college course of Scout leader training, and that it is an excellent course to attend. I also knew that it would take place over three weekends and that there was a "nice" registration fee. Woodbadge would be something I would attend some other time.
Paul caught up with me
during a district function in the spring of 1988. "I registered you for the fall Woodbadge course," he told me, and then gave me the dates of the three weekends. "Well gosh," I thought, "that was nice of him." Yes, I wanted to participate in a Woodbadge course but this was much sooner than I had planned. Oh well, I was registered now so I guess I may as well get it done and over with.
I told the troop committee about it at the next meeting. They agreed to pay a portion of the cost for which I was very thankful. I also discovered that I would need another uniform shirt since I was not about to redo many of the patches on my current troop uniform. Luckily, I already had the official Scout pants, cap, and socks.
As the first weekend approached I began to get a little nervous. I was attending the course in Viking Council, since our council was not conducting Woodbadge training. I knew Paul would be on the staff as the troop quartermaster but would I know anyone else? Who would be in my patrol? What would be my patrol name? Too many questions. Too much to be nervous about.