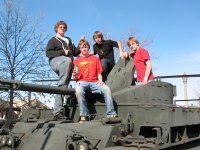 You may have read the previous three-part posting of Boy Scout Troop 68's adventure at the Central Minnesota Council's Ripley Rendezvous this year. Yes, we had a few problems, but to tell the truth, we also had a pretty good time, and that is why I have chosen to post this video to the Melrose Scouting Productions Podcast.
The video is a slide show of the activities in which the Scouts participated. It begins with a few pictures from the First Class Emphasis program, and then moves on to the shooting ranges. One of the highlights of the trip for the Scouts was the visit to the military museum, and there are a lot of pictures of that. The video ends with pics from the carnival style games played Saturday night. All in all, it was a good weekend for Scouting.
Leave a comment here using the link below, or at the PTC Media forums. You can also rate the videos of Melrose Scouting Productions at the iTunes Music Store. It really is great to hear what you think about the podcast videos.
Click here to DOWNLOAD this Podcast
Subscribe to Melrose Scouting Productions Podcast through iTunes.
or at http://feeds2.feedburner.com/melrosescoutingproductions
Check out other Scouting podcasts at PTC Media.