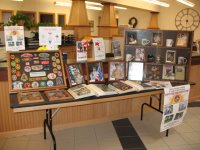 Melrose Boy Scout Troop 68 held a recruitment drive in the city park last Saturday, May 9th. We had a model campsite set up, dutch oven deserts prepared, and the council's bouldering wall for the boys to climb. Seven of our nine Boy Scouts where on hand to assist. Even the Cub Scout Pack had a couple parents and Cubs on hand.
The troop had advertised the event. We handed out flyers at the schools, set up displays and posters around town, and listed the event in the local newspapers and the local television stations. The cities banks and credit union even placed a note about it on the outdoor marquees. We thought we had done a good job of covering all the bases to get the word out…
But no one showed up. Well, let me rephrase that. There was one first grader who checked things out, but not one boy of Boy Scout age choose to check out the program.
The troop has nine Boy Scouts. One will be leaving in August when he turns 18 years old. Another is thinking about dropping out of Scouting. Currently, our youngest Scout is 13 years old.
The Pack is in even worse shape with only seven members. Only one of them is a second year Webelos Scout. If something does not change soon, the Cub Pack will die out. And the troop will soon follow.
We have tried many ideas over the last several years to get boys and families involved in Scouting with minimal success. It is very frustrating, especially considering that ten years ago we had a strong troop with nearly 40 members.
Oh well, this recruitment drive is over, and it was a bust. The troop will now concentrate on its summer program. Hopefully, we will have better luck in the fall or Scouts in Melrose will become an endangered species.