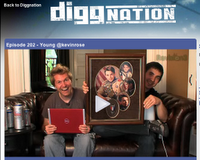 We have all heard of famous Eagle Scouts like Neil Armstrong, Steve Spielberg, and Ross Perot. But today's Boy Scout may have a little trouble identifying with these gentlemen. After all, they are (dare I say it?) old. How about someone younger, someone 20, 30, or 40 years closer to the age of today's Boy Scouts?
If you are a tech geek you may remember a television show on Tech TV several years ago called The Screensavers. The show featured a young man by the name of Kevin Rose. Kevin loved modifying computers and finding those special programs to make it run better and do more. He rapidly became a popular member of the show and soon became the host.
After The Screensavers was canceled, Kevin turned his interests to the internet. He and his friends began a little website called Digg.com which soon became an internet sensation. He is one of the driving forces of Revision 3, an internet television site, and occasionally appears on the This Week In Tech podcast with his old friends Leo Leport and Patrick Norton.
During a recent Diggnation podcast episode Kevin admitted to Alex, his co-host on the show, that he was a Cub Scout and a Boy Scout. In fact, Kevin earned the rank of Eagle Scout when he was only 16 years old, and went on to earn two Eagle palms.
Kevin and Alex went on to discuss merit badges that Kevin had earned, goinf camping, and building campfires. It was pretty obvious that Alex was not a Scout when he was younger. These two guys are still very much like college guys even though Kevin is now 32 years old.
Watch the Diggnation episode HERE.
I had never thought of Kevin Rose as an Eagle Scout when I watched him on television and later on his podcast. He always came off to me as a bit of a rebel. But he is also very smart, seems to know what he wants, and he knows how to get there. Now, when I look closer at what he has accomplished in his short time as an entrepreneur, yes, I can see the traights of an Eagle Scout. But as a scoutmaster, I do wish he would watch his language a bit more and drink less beer.