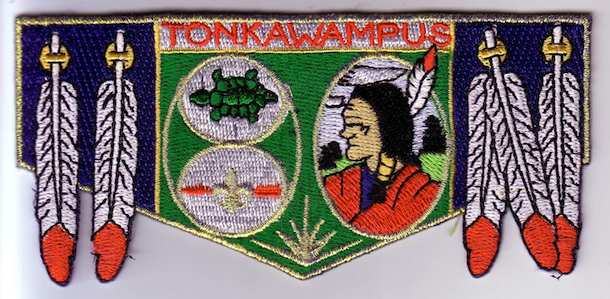 I recently had a great visit with a couple of old Scouting friends of mine. We had not seen each other for a few years so it was great to get together for a few hours to reminisce about the "old" times and catch up on how we have all been doing. Of course, we also exchanged some Scouting memorabilia. I gave him two 2010 Boy Scout Fleece blanket patterns which he can use to make a couple patch blankets, and he gave me various patches for my collection and a special surprise.
A fair number of the patches given to me were Tonkawampus Lodge #16 Order of the Arrow patches, #S19. This lodge was chartered in 1924 in the Viking Council, located in Minneapolis, Minnesota. In 2006, during the merger of the Viking Council and the Indianhead Council of St. Paul, Tonkawampus Lodge #16 and Agaming Lodge #257 merged to form Totanhan Nakaha Lodge #16.
The patches given to me are shown above. I have done an online search for this patch and had a hard time founding it anywhere. eBay did not have this patch offered by anyone. I finally found some information on the Internet Guide to Order of the Arrow Insignia, but even that page did not have a lot of information, other than stating that this was the 80th anniversary patch for the lodge.
My friend told me this could be one of the last patches made for the lodge before the merger. Hidden in the design of the patch is the year 2003. The first two feathers, following by pictures in the two zeros, followed by three feathers, gives us the year 2003. That is a pretty cool design in my opinion. I plan to add a couple of these to my collection of OA patches, which will be even more special since this lodge does not exist any longer.
My friend gave me this collection of Order of the Arrow patches with one stipulation. I could keep some for myself, but I should try selling the rest and use the proceeds to provide camperships for Scouts who may need some assistance paying for summer camp. I thought that was an excellent idea. I know of a couple online sites, like eBay, that would probably be good places to post sales for these collector patches. We discussed what price should be listed but neither one of us had a good idea what that price should be. I finally sat down today to see if I could find something online on an average price for this patch but found nothing. Not a thing. Do I have a rare patch here?
I decided to write a post about it here before I started auctioning them off on various sites. If you have any information about this patch I would love to hear from you. I was thinking about asking a starting price of $10.00 each. Too high? Not high enough? What is your opinion?