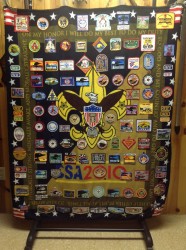 It is done! That is correct, the second of my patch blankets is complete. I picked up the last patches this morning from the Scout Shop. Now I am waiting for the glue to dry. This new blanket contains 144 patches.
This second blanket had a couple interesting "happenings" that were unplanned. First, as you can see from the picture, I used the 2010 B.S.A. anniversary blanket design, the same as the first blanket. Since this blanket would contain patches from the 100th anniversary year, I decided to leave the 2010 logo mostly exposed, instead of covering it up like I did on blanket one. I was pleasantly surprised to discover that the row featuring patches from 2010 actually ended up on the same level as the logo. I was even able to use an anniversary patch on top of the zero of 2010.
The last two patches I needed included a roundtable staff patch. I wanted to it to recognize that I joined the Scenic District roundtable staff in the fall of 2013. It was also the last patch I "earned" for the year. The final patch was the generic Leave No Trace patch. I really wanted 2013 to end this blanket and it happened to work out that way. The year 2014 will be the year to start a new one. However, each of the two completed blankets display 16-17 years of patches. I have a feeling there may not be a third blanket for me. At least, not a completely covered one.
When I was at the Scout Shop this morning Bob, my district executive, happen to catch me and we had a nice chat. He also asked me if I planned to bring the blankets to the roundtable on Tuesday, January 7th. I replied that I could. I bought a couple of garment racks to hang them on to display. I did bring the first blanket to the Boy Scout roundtable in December which meant, of course, that the Cub Scout leaders did not see it. I may display both blankets in the lobby this time so everyone can view them. After all, I did create the blankets to be viewed. The next time I plan to display the flags will be during the first week of February, during Scouting Anniversary week.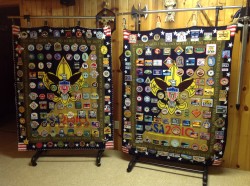 Now that that Scouting project is complete, what do I begin as a new one?
Click on the pictures to see a larger photo.
.