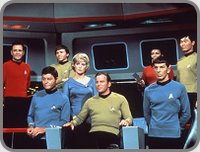 I plan to see the new Star Trek movie this weekend. Although I am a fan of the series, I am not hardcore enough to be considered a Trekkie or a Trekker. I am more of a Star Wars kind of guy. You only need to see my family room to know that is true.
While the new movie is on everyone's mind this weekend, I thought it might be a good time to revisit the Star Trekking skit that my troop came up with twenty years ago.
There are a few videos posted online of the Scouts and myself performing the skit. The original version of the skit can be seen on Youtube (click HERE). The Scouts and I performed it during a fundraiser at a local television station. And yes, that is me as Scotty.
Last summer, the Buckskin staff of Many Point Scout Camp talked me into joining them as they performed the skit during the Friday night closing campfire. It can be seen at the Melrose Scouting Productions Podcast #47 (click HERE), or on our troop's website video page.
Once the Star Trekking skit became popular we felt we had to take it to the next level and do a sequel, so we came up with Star Trekking: The Next Generation. It is #54 of the Melrose Scouting Production Podcast, and can also be seen on the troop's website.
Live long and prosper, and laugh until it hurts.