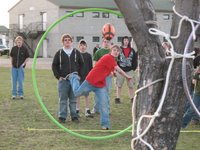 After supper on Saturday, the Order of the Arrow set up several "carnival" style activities to keep the Scouts busy until the evening's Call Out ceremony was scheduled to begin. Stations included activities like throwing a ball to knock down the stacked blocks, throwing a football through a hoop, and throwing darts at balloons. Candy prizes were given to Scouts who were successful. There was even a softball game and an Ultimate frisbee game being played.
The four Boy Scouts from Troop 68 were having fun going from one station to the next. Just before the stations were closed down for the evening we walked by a station which caught the boys attention. Two Scouts would stand on a 2×4 piece of lumber and then try to push or pull the other Scout off balance. The first to step off the 2×4 and place his foot on the ground lost the game. The winner stayed on the board to accept a new challenger.
A female troop leader had been playing the game with the boys and had won several contests. She was a larger woman and did have weight on her side, but the boys only saw that as a greater challenge. One of my 14 year old Scouts decided to get in line to give it his best shot.
When it came time to face her on the board he seemed to have a few second thoughts. How was he going to get her off the 2×4 when so many before him had failed? He finally decided to charge her with his shoulder down, hoping that brute force would knock her off. She caught him in a near bear hug and threw him off to the side. He laid there for a moment, accepted her hand to help him up, smiled, and then cracked a joke as he rejoined his buddies. We walked back to the barracks to get ready for the Order of the Arrow call out.
As we were changing into our uniforms this Scout went off to the bathroom. When he returned, he told me that he was not feeling well, had just thrown up, and had a bad headache. I told him to lay down for awhile and asked my assistant scoutmaster to sit with him while I took the other three boys to the OA call out. On the way to the call out I met the same woman who had challenged the Scout on the 2×4. She happened to be walking with the camp nurse so I asked them if they would go up to our bay and check the Scout who was not feeling well.
When the three boys and I arrived back to our bay after the ceremony we discovered that a few council people and the nurse were hovering near the bed of the ill Scout. The nurse said that the Scout had a concussion. The council staff had already phoned his mother and they all thought that we should take him to a nearby hospital in Little Falls to have him checked out. When the Scout tried to sit up to go to the car he got very dizzy and his head pain increased. His vision was blurred. He immediately laid back down. Oh no, did he have a neck injury also? We decided that it was time to call for an ambulance, just in case it was worse then we thought.
As a scoutmaster you never like to see anyone get hurt although you know the small chance of it happening is always there. You hope that there will never be anything more then a skinned knee or a little bruise. When something like this happens you think about the worst, but are hoping for the best. I tell you, it is almost like being a parent.
To make a long story short, I rode along in the ambulance to the hospital so that he had someone with him that he knew. The hospital staff asked him a lot of questions, attached five electrodes to his chest to check his vital signs, did a cat-scan of his head, and sent the scan to a hospital in Australia. After an hour in the emergency room they determined that he did indeed have a concussion, but nothing more. He uncle, who had met us at the hospital, and I breathed a sigh of relief. Since the Scout was feeling a little better they released him to his uncle's care with instructions on what to watch for over the next day or two. I went back to Camp Ripley with another Scouter who had followed the ambulance to the hospital.
The council staff, the first aid and venture staff, the paramedics, and the hospital staff all did a great job. Everyone stayed calm and professional. But it was a bit of excitement that none of us really needed, especially the Scout himself.
By the way, I visited with the Scout and his mother Sunday evening when I dropped off his gear from the weekend. He still had a bit of a headache and a little tunnel vision, but he was doing much better and seemed to be almost back to his usual self. His mother was going to take him to her doctor on Monday to make sure everything was going well.