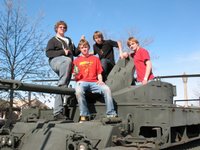 Saturday morning at the Central Minnesota Council's Ripley Rendezvous started out well. The Boy Scouts awoke, got dressed, and made it to the dining hall a little early for a great breakfast of french toast, scrambled eggs, and sausage links. Even the weather was cooperating. The forecast had been for a wet cool day but the sun was shining through partly cloudy skies.
The day quickly soured for the Scouts of Troop 68 when we discovered the program schedule had changed. Our Scouts, who were all 14 years old and older, had registered for the Outdoors Experience program which was to introduce them to the various high adventure bases and have them participate in team building exercises. It sounded like it would have been a good program, but it did not happen. The people in charge of the Outdoors Experience had backed out of the activity too late for a new program to be planned in its place.
So our boys were placed into the First Class Adventure program, designed for 11 and 12 year old Scouts who were working on their Tenderfoot, Second Class, and First Class Ranks. This was a big mistake. Within 45 minutes my Scouts were so bored they decided to head back to the barracks. I now had four teenage boys on a military base with nothing to do. Not a good situation. I needed to get them in a program fast or we may as well load up the gear and head home.
I walked to the event's headquarters and just happened to catch most of the event's leadership in the office. I calmly explained my troop's situation, that the boys and I were pretty disappointed, and that we were thinking about going home. They understood the problem, made a quick phone call, and were able to get the boys transferred to the range program if I was able to drive the boys to the site which was a few miles away from the barracks area. I agreed, went back to the barracks to talk to the boys, and soon found myself driving the Scouts to their new activity. The boys spent the rest of the morning rotating between the archery, rifle, shotgun, and black powder stations. The rain stayed away. The sun kept shining. The boys had a good time.
We returned to the barracks with two hours of free time before supper would be served so we decided to visit the Camp Ripley Military Museum. This became a highlight of the weekend as the boys looked at the uniforms and weapons used by the National Guardsmen over the generations through the wars. They were also able to climb onto many of the tanks and military vehicles that were on display outside of the museum.
A potentially bad day had turned out well. Unfortunately, the day was not yet over, and the worse was yet to come…
(To be continued.)