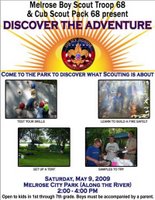 That is the slogan Boy Scout Troop 68 will be using during a spring recruitment drive to be held on Saturday, May 9th. The Boy Scouts, troop leadership, and committee are planning an afternoon of fun at the city park to introduce new boys and their parents to the adventure of Scouting.
The troop plans to have five areas of activity, four for the boys and one for the parents. The parents' area is actually a place for the committee to talk to parents about the Scouting program and what it has to offer their families.
The four boy areas are designed to introduce the new boys to the fun Scouting has to offer. One area will be a model campsite at which boys will have the chance to set up a tent. The second area will feature fire building and fire safety. (What boy doesn't like to sit near a fire?) The third area will feature dutch oven cooking. Boys will be able to help make various dishes and then eat them.
The fourth station is the biggest. We will be setting up the council's bouldering wall on which the boys will climb horizontally instead of vertically. We expect this to be the big draw that brings the boys down to the park.
The Cub Pack is also hoping to organize a station to talk to boys and their parents about the Cub Scout program. We are hoping they are able to get their leadership together for this event. The Pack could use more Scouts just as much as the troop does.
The troop plans to advertise the event pretty heavily through all the free ways we can think of. We have created our own flyers which will be going to the three elementary schools in the area. The flyers were sketched by me and feature pictures of the four activities. (See the picture with this article.) A local business created the final version and printed 300 copies for us at a very reasonable price.
The troop also plans to get press releases out to the local weekly newspapers and the local television stations. We will also contact the banks and credit unions to get a notice run on their outdoor marquees. Posters will be placed around town and we hope to get a few large banners to place across the school, at the local grocery store, and on the fence along the park.
I really hope all this effort will pay off. I would hate to see all this work being done and then only see a couple boys show up. I will keep you posted to how things turn out.