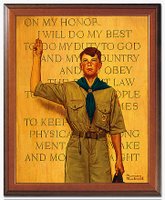 During lunch today I read an article that was linked in an email to the Boy-Scout-Talk Yahoo group. It was a link to an article written by Rebecca Hagelin titled simply "Boy Scouts". Here is a small portion of the article:
"Turn on the television for 30 minutes and show me how boys and men are portrayed – you can watch just about any station at any hour and the image will be the same. When sit-coms and commercials contain family groups or interactions between the genders, the man is usually stupid, lazy, and doltish.
If our media culture showed positive male images and if we actually put effort back into teaching boys that real men are also gentlemen, we would get more of the behavior our society needs to survive.
What the nation really needs are more Boy Scouts. And I mean that literally.
As a mother of two Eagle Scouts (now ages 20 and 21), I can personally testify about the tremendous positive impact that Scouting continues to have on their lives."
I thought the article was very well done and hit some good points.