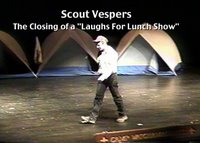 What song is the most common song used to close a Boy Scout campfire program? I would have to say that it would be "Scout Vespers". Vespers has probably been used by Boy Scouts since the program began. It is a great song. When it is sung the boys and leaders know that the day has come to an end and we will soon be sleeping in our tents.
The Boy Scouts of Melrose Troop 68 are very familiar with Scout Vespers. They have used it many times to close their own campfire programs. They have also used it to end each of their thirteen Laughs For Lunch Shows. And that brings us to today's video for the Melrose Scouting Productions Podcast.
This video was taken from the troop's 1996 Laughs For Lunch Show. I could have taken it from a newer show, one that was filmed with a digital camera, but I wanted to present a video in which all the boys shown have grown up, moved on with their lives, gone to college, began full time careers, and even started their own families. This video is dedicated all the former members of Troop 68.
Be careful where you watch this video. You may find yourself humming or singing along with the troop.
Leave a comment here using the link below, or at the PTC Media forums. You can also rate the videos of Melrose Scouting Productions at the iTunes Music Store. It really is great to hear what you think about the podcast videos.
Click here to DOWNLOAD this Podcast
Subscribe to Melrose Scouting Productions Podcast through iTunes.
or at http://feeds2.feedburner.com/melrosescoutingproductions
Check out other Scouting podcasts at PTC Media.