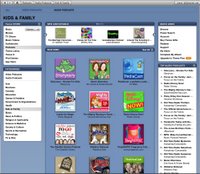 Just before going to bed tonight, I decided to check a few sites online, including the "Kids and Family" section for podcasts on the iTunes Music Store. I like checking it once in awhile to see how the three podcasts I am involved with are doing. (For those of you new to the podcast scene, I currently create two podcasts of my own: the Melrose Scouting Productions video podcasts and the newer Around The Scouting Campfire audio podcast. I also co-host The Leader's Campfire podcast with Cubmaster Chris.)
The Melrose Scouting Productions Podcast has been featured on the "Kids and Family" video home page for a couple months now which, to tell the truth, thrills me. I think it is awesome that my little videos have been found noteworthy enough to be featured by the folks at the iTunes store. I am sure being a featured podcast helps to bring new people to the podcast.
Of course, there are many more audio podcasts out there in cyberland than there are video podcasts, so imagine my surprise tonight when I discovered that my new audio podcast, Around The Scouting Campfire, has made it to the front page of the "Kids and Family" audio home page! With all the competition out there, I never thought I would ever see my podcast about Scouting listed there, especially since the podcast is less than a month old . Granted, it is on the top of the page under "New and Notable", but it is listed there for all to see.
I would like to thank the people at iTunes for recognizing my little podcasts, and to all of you who have listened to them and downloaded them. I am sure it would not have made it there with out your support.
Boy, I tell you, living with Buttons, the radical Boy Scout, just got a lot harder.