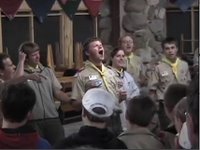 The Bear Hunt. Through the wheat fields, over trees, through the lakes, into the cave. It is challenging. It is rowdy. And it is loud if you have a room full of Cub or Boy Scouts and their leaders. This skit has been with the Scouting program for decades, maybe even longer, and is probably known through many countries. I guess you could say it is a classic.
This version of The Bear Hunt was performed during the opening campfire program at the Buckskin Camp of Many Point Scout Camp in July of 2007. It was raining outside so the staff decided to hold the program in the dining hall. That did not dampen the spirits of the Buckskin staff though. They were excited, loud, and rowdy, and that spirit was caught by the Scout campers.
You are invited to leave a comment using the link below, at the iTunes Music Store, or at the PTC Media forums. It really is great to hear what you think about the podcast videos.
Click here to DOWNLOAD this Podcast
Subscribe to Melrose Scouting Productions Podcast through iTunes.
or at http://feeds2.feedburner.com/melrosescoutingproductions
Check out other Scouting podcasts at PTC Media.